2007 Schedule/Results/Statistics
Western Division Conference Champions
ND American Legion State Class A Runner-up
15-5 West Division, 37-16 Overall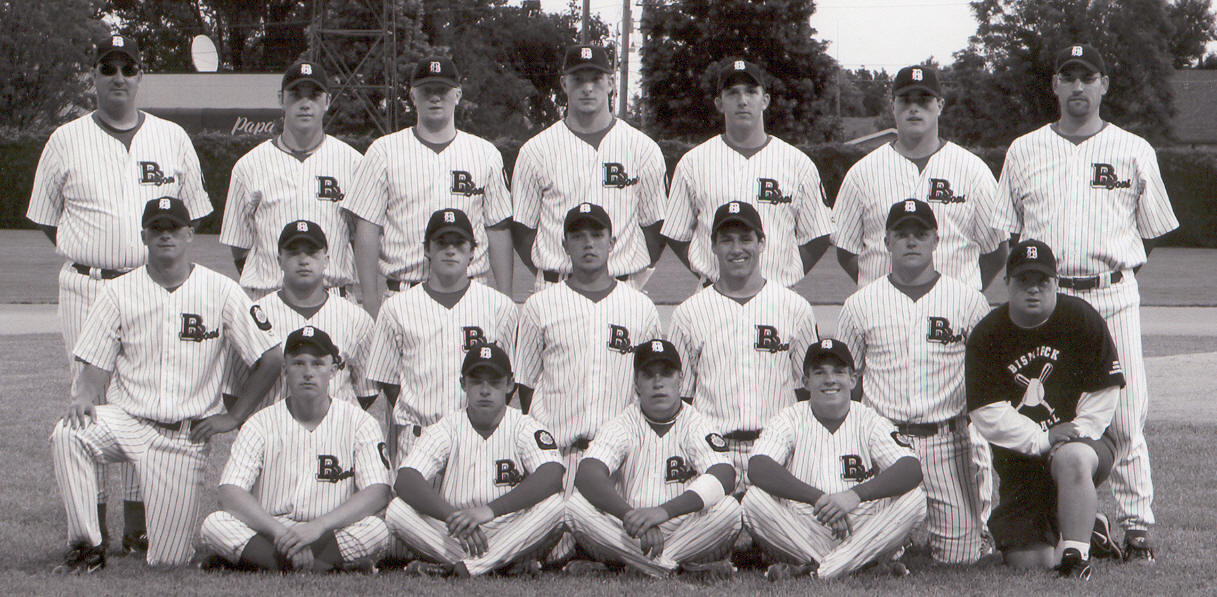 Front row (left to right): Zach Klabo, Cody Erhardt, Dustin Wenzel, and Darron Olson. Middle row (left to right): Assistant Coach Travis Dressler, Jon Hausauer, Tom Seifert, Nathan Schlosser, Tyler Johnson, Justin Connell, and Batboy Ryan Suchy. Back row (left to right) Head Coach Mike Skytland, Jeremy Campbell, Matt Loomis, Zach Wentz, Torey Bohan, Drew Eichele, and Assistant Coach Blaine Steiner.
2007 Season Statistics

2007 BGovs Batting Stats PDF 60 KB
2007 BGovs Fielding Stats PDF 49 KB
2007 BGovs Pitching Stats PDF 49 KB
To view and print out stats, you will need the Adobe Acrobat Reader.
Date
Opponent
Location
Time (CST)
Results
Box Score
THU, JUN 7
WILLISTON*
Bismarck, ND
5:30 PM
PPD
THU, JUN 7
WILLISTON*
Bismarck, ND

Game 2

PPD
Sun, Jun 10
East-West All-Star Game - West 9, East 5
@ Mandan, ND
2:00 pm
Mon, Jun 11
@ Minot*
@ Minot, ND
5:30 pm
W 9-4
View
Mon, Jun 11
@ Minot*
@ Minot, ND
Game 2
L 7-4
View
TUE, JUN 12

MANDAN* (9 inning game)

Minnesota Twins Promotional Night

Bismarck, ND
7:30 PM
PPD

Red River Diamond Baseball Classic Tournament @ Fargo, ND

Thursday-Sunday, June 14-17

Fargo North High School Pool

Complete tournament pairings
Fri, Jun 15

BGovs vs. Dilworth-Glyndon-Felton, MN

@ Fargo, ND

10:00 am

W 4-1

View
Sat, Jun 16
BGovs vs. Team Manitoba
@ Fargo, ND
10:00 am
W 5-4
View
Sat, Jun 16
BGovs vs. Alexandria, MN
@ Fargo, ND
12:30 pm
W 8-3
View
Sun, Jun 17
BGovs vs. Boulder (CO) State Farm
@ Fargo, ND
2:00 pm
W 8-6
View
Sun, June 17
BGovs vs. Excelsior (MN) Post #259
@ Fargo, ND
4:30 PM
W 8-6
View

Decker Sports College World Series Tournament @ Omaha, NE

Wednesday-Sunday, June 20-24

Millard South Pool

(147th & Q Street, Millard South High School)

Complete tournament pairings & rules

Wed, Jun 20
BGovs vs. Republic (MO)
@ Omaha, NE
4:00 pm
W 10-2
View
Thu, Jun 21
BGovs vs. Lincoln (NE) Pinnacle Bank
@ Omaha, NE
9:30 am
L 10-8
View
Thu, Jun 21
BGovs vs. Oklahoma Outlaws
@ Omaha, NE
12:00 pm
L 15-1
View
Fri, Jun 22
BGovs vs. Caste Rock (CO) Douglas County HS
@ Omaha, NE
9:30 am
W 7-5
View
Sat, Jun 23
BGovs vs. Omaha (NE) Prime Time Patriots
@ Omaha, NE
2:30 pm
L 8-1
View

WED, JUN 27
DEVILS LAKE*
Bismarck, ND
5:30 PM

W 5-1

View
WED, JUN 27
DEVILS LAKE*
Bismarck, ND

Game 2

W 8-7

View

Fargo-Moorhead American Legion Baseball Invitational Tournament

Friday-Saturday, June 29-July1

Matson Field Pool

(Moorhead, MN)

Complete tournament pairings

Fri, Jun 29
BGovs vs. Tri-City (MN) Red
@ Moorhead, MN
11:30 am
W 14-7

View
Fri, Jun 29
BGovs vs. Moorhead (MN) Blues
@ Moorhead, MN
4:30 pm

L 7-6

View
Sat, Jun 30
BGovs vs. West Fargo (ND) Patriots
@ Moorhead, MN
9:00 am

W 11-1

View
Sat, Jun 30
BGovs vs. Oconomowoc (WI)
@ Moorhead, MN
11:30 am

W 17-0

View
Sun, Jul 1
Eau Claire, WI (Third Place Game)
@ Moorhead, MN
11:30 am
L 6-4

View

Tue, Jul 3
@ Mandan* (9 inning game)
@ Mandan, ND
7:30 pm
W 14-0

View
Wed, Jul 4
@ Mandan* (9 inning game)
@ Mandan, ND
4:30 pm
W 22-2

View
Tue, Jul 10
@ Dickinson*
@ Dickinson, ND
6:30 pm
L 14-8

View
Tue, Jul 10
@ Dickinson*
@ Dickinson, ND
Game 2
W 8-4

View
THU, JUL 12
MINOT*
Bismarck, ND
5:30 PM
W 6-1

View
THU, JUL 12
MINOT*
Bismarck, ND

Game 2

W 3-1

View
FRI, JUL 13
WAHPETON
Bismarck, ND
5:30 PM
W 5-4

View
FRI, JUL 13
WAHPETON
Bismarck, ND

Game 2

L 8-7

View

SAT, JUL 14

JAMESTOWN

Originally scheduled for @ Jamestown

HAALAND FIELD

5:00 pm

W 6-3

View

SAT, JUL 14

JAMESTOWN

Originally scheduled for @ Jamestown

HAALAND FIELD

Game 2

W 8-5

View
Mon, Jul 16
@ Devils Lake*
@ Devils Lake, ND
5:30 pm
W 3-2

View
Mon, Jul 16
@ Devils Lake*
@ Devils Lake, ND
Game 2
W 11-1

View
Tue, Jul 17
@ Grand Forks
@ Grand Forks, ND
1:00 pm
W 8-6

View
Tue, Jul 17
@ Grand Forks
@ Grand Forks, ND
Game 2
L 13-9

View
Thu, Jul 19
@ Williston*
@ Williston, ND
5:30 pm
W 6-4

View
Thu, Jul 19
@ Williston*
@ Williston, ND
Game 2
L 2-1

View
Tue, Jul 24

MANDAN* (7 inning game)

Originally scheduled for June 12th

Bismarck, ND
5:30 PM
W 5-4
View
TUE, JUL 24

MANDAN* (7 inning game)

Minnesota Twins Promotional Night

Bismarck, ND

Game 2

W 12-2

View
WED, JUL 25
DICKINSON*
Bismarck, ND
5:30 PM
W 6-4

View
WED, JUL 25
DICKINSON*
Bismarck, ND

Game 2

L 12-11

View
Thu, Jul 26
@ Wahpeton
@ Wahpeton, ND
5:30 pm
Canc.

Thu, Jul 26
@ Wahpeton
@ Wahpeton, ND
Game 2
Canc.

Fri, Jul 27
@ West Fargo
@ West Fargo, ND
5:30 pm

W 16-8

View
Fri, Jul 27
@ West Fargo
@ West Fargo, ND
Game 2

W 16-6

View
SAT, JUL 28
FARGO
Bismarck, ND
5:30 PM

W 6-5

View
SAT, JUL 28
FARGO
Bismarck, ND

Game 2

L 5-3

View

SUN, JUL 29

WILLISTON

Originally scheduled for June 7th

Bismarck, ND

2:00 pm

W 6-4

View

SUN, JUL 29

WILLISTON

Originally scheduled for June 7th

Bismarck, ND

Game 2

L 7-3

View

MON, JUL 30

JAMESTOWN

Bismarck, ND

5: 30 PM

Canc.

MON, JUL 30

JAMESTOWN

Bismarck, ND

Game 2

Canc.

Western Divisional Tournament

@ Devils Lake, ND

Thursday August 2 - Saturday August 4

(1) Bismarck 15-5, (2) Minot 12-7, (3) Dickinson 12-8

(4) Williston 12-8, (5) Devils Lake 5-14, (6) Mandan 3-17

Fri, Aug 3
BGovs vs. Williston
@ Devils Lake, ND
6:30 pm
L 9-7
View
Sat, Aug 4
BGovs vs. Mandan (Loser-out)
@ Devils Lake, ND
12:30 pm
W 7-3
View
Sat, Aug. 4
BGovs vs. Dickinson (3rd place game)
@ Devils Lake, ND
6:30 pm
W 3-0
View

North Dakota American Legion Baseball State Class 'A' Tournament

Wednesday August 8 - Sunday August 12

Jack Williams Stadium - Fargo, ND

West: (1) Minot, (2) Williston, (3) Bismarck, (4) Dickinson

East: (1) Grand Forks, (2) Fargo, (3) Jamestown, (4) West Fargo

Wed, Aug. 8
BGovs. vs. Fargo
@ Fargo, ND
8:00 pm
W 4-3
View
Thu, Aug. 9
BGovs vs. Minot
@ Fargo, ND
5:00 pm
L 19-5
View
Fri, Aug. 10
BGovs vs. Jamestown
@ Fargo, ND
1:00 pm
W 14-4
View
Sat, Aug. 11
BGovs vs. Dickinson
@ Fargo, ND
1:00 pm

W 13-9

View
Sun, Aug. 12
BGovs vs. Minot (Championship Game)
@ Fargo, ND
1:00 pm
L 10-9
View

* Western Division Conference Games

Schedule subject to change

Mon, Aug 6
Team Picnic (players, parents, coaches and families)
---